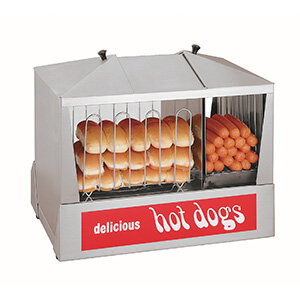 Hot Dog Steamer 130 Dog
Hot Dog Electric Steamer 130 Dog
Description: Perfectly heating and holding up to 130 hot dogs, has side-by-side chambers for both hot dogs and buns..
INSTALLATION/OPERATION PROCEDURE
1, Place the unit on a level surface. Pour three to six quarts of water into the hot dog (small)
compartment. Do not overfill.
2. Turn the switch to "on" position and set the thermostat control on "high" until steam is generated.
3. For normal operation set the thermostat control in the center of the range between "high" and"lo."
4. Place hot dogs in small compartment and buns on the wire rack in the large compartment.
Arrange the hot dogs and buns so that there is free circulation of steam.
5. To control the amount of steam in the bun compartment, use the adjustable humidity controllever located in the bun compartment under the center cover.
6. Keep the lids closed when not serving.
7. Add water as it becomes necessary to maintain the water level.(Add hot water for best results.)DO NOT ALLOW THE UNIT TO BOIL DRY. NOTE: Move the thermostat control to a lower setting. Buns too soggy or too dryToo much steam or too little steam will produce this condition.Control the amount of steam by adjusting the thermostat control as required. Also byadjusting the humidity control lever located in the bun compartment under the center cover.If buns are too soggy, trying adding buns to the unit after the hot dogs have fully cooked.
*Hotdogs and buns NOT INCLUDED